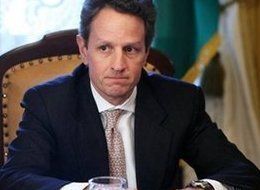 Point of honesty:
cassandra
got to this first.
But it's too good to pass up--especially when you look at the forlorn, almost teary look on Geithner's face. From
HuPo
:
Administration officials were greeted with sarcasm and laughter Monday night when they briefed lawmakers and congressional staff on Treasury Secretary Tim Geithner's new financial-sector bailout project, according to people who were in the room.

The laughter was at its height when Obama officials explained that the White House planned to guarantee a wide swath of toxic assets -- which they referred to as "legacy assets" -- but wouldn't be asking Congress for money. Rep. Brad Sherman (D-CA), a bailout opponent in the fall, asked the officials to give Congress the total dollar figure for which they were on the hook. The officials said that they couldn't provide a number, a response met by chuckling that was bipartisan, but tilted toward the GOP side. By guaranteeing the assets, Geithner hopes he can persuade the private sector to purchase a portion of them.

Congress may be able to do little more than laugh.
At least they weren't jumping up to write him more blank checks.