Two pictures should tell this story.
The first is from a recent
kavips
post, detailing the impact of Senator Barack Obama's tax plan for taxpayers in various increments of income.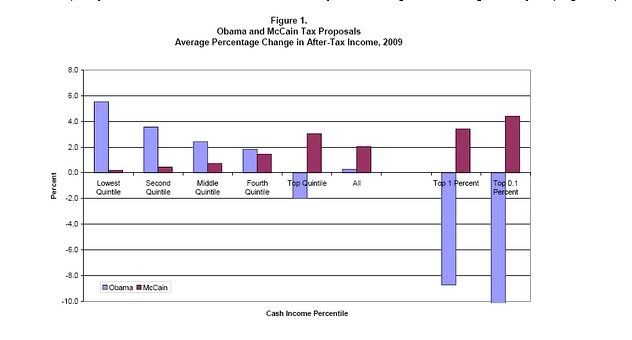 It seems to show exactly what the Obama campaign has been claiming all along: 95% of all Americans would do better under his tax plan.
Now here's one from
Fausta
, that also shows what would happen at each income bracket regarding marginal tax rates under the Obama plan. This one seems to show what Senator John McCain has been saying throughout the campaign: the Obama plan actually raises taxes on a lot of middle class families:
Both of these tables can be backed up by dense articles of explanatory economics, and each could be picked apart--but that's not my point.
My point is this: most people read the headline [from a source whose ideology they are already predisposed to trust]; glance at the table, and then skim the opening paragraph that either claims exhaustive analysis proves Senator Obama is a savior or a liar.
One in a thousand will probably read the entire article, but won't every wonder if possibly the writer could be biased.
One in ten thousand will know that his/her source is telling him/her exactly what he/she wants to hear, but will take the information as useful talking points to employ around the office or at dinner parties.
One in one hundred thousand will be intellectually honest enough to go check for a contrary view of the plan, but at least two-thirds of these will read the other opinion and realize, "I have absolutely no idea which of these sources is correct," and will tend to fall back on a favored commentator to break it down.
Assume 140 million voters. If one/third of one in one hundred thousand voters actually (a) takes the time to investigate the differences between the two pictures; and (b) either knows or learns enough to distinguish between them, that means that 1,400 voters will try to figure it out, and only 467 voters will succeed.
467 voters out of 140,000,000?
OK, I made up the one in a thousand stats, and so forth, because I don't have any hard numbers to use. But I'm willing to bet that I'm not that far wrong. Let's assume I am, and that one in ten thousand people actually takes the time to do all the work and reach the right conclusions: that's still only 14,000 voters.
In other words, the votes of people who actually take the time and have the ability to understand the differences in the two presentations of Senator Obama's tax plan are at best one-one-hundredth of one percent of the total.
Which is ... inconsequential.
Maybe I'm under-estimating the intelligence and attention span of the American people, but based on the people I talk to in person and encounter in the blogosphere, I don't think so.
For every cassandra who can actually penetrate the fog, I think there are really 9,999 more liberals and conservatives who either cannot or will not.
Regardless of whether they vote Republican or Democrat (or even third party), there's a technical term for that: fucking lemmings.
We deserve the government we get.