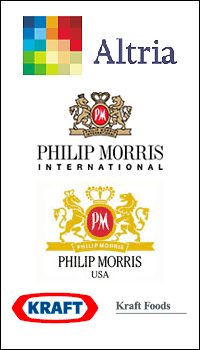 Regular readers will recall that I recently posted An Open Letter to Mr. Michael E. Szymanczyk, Chairman & CEO, The Altria Group, regarding the return of the $708,000 of
our tax money
that Governor Ruth Ann Minner gave away to Kraft General Foods within a week of announcing that
every public school district in the state would have to cough up $8-10 million
in budget cuts.
I sent the letter directly to Mr Szymanczyk (no answer yet) and also to the Contributions & Communities section of the Altria Group.
They, at least, have answered. Sort of.
Here is the text of the response:
Thank you for requesting support from Altria Group, Inc. for Children of Kraft General Foods.

Altria Group's contributions program focuses on supporting organizations in the areas of hunger relief, domestic violence prevention, and the arts. All of our grant making is conducted through an invitation only application process. Only organizations with which we have a funding history are eligible to apply. We do not accept unsolicited proposals. If you would like to learn more about our philanthropic program, please visit our Web site at www.altria.com.

We wish you all the best in your fundraising efforts.

To learn more about our contributions program, please visit our Web site at: www.altria.com/contributions.

Thank you for contacting the Altria family of companies.

Corporate Communications

Altria Client Services
First note that this is
not
an automated reply. Somebody actually had to read my letter in order to pull out the chunk
"for the Children of Kraft General Foods."
Now let's see what Altria's position is: you can only receive charitable funds from us if we invite you to apply. We only invite those to apply that we have previously funded.
OK--let's be honest. I didn't expect Altria to return the money; I didn't even really expect to receive a reply.
But what I do expect is that Jack Markell, John Carney, or (God help me) Mike Protack take a stand against corporate welfare, especially at a time when Delaware apparently cannot even pay for its schools.
Of course,
as Intercourse says on Down with Absolutes
:
If it walks like a duck, quacks like a duck, and has feathers, its a well-funded sleazy politician who's bought and paid for and screw the rest of you if it waddles to a win in November.