In an article yesterday,
AllVoices praised former New Mexico Governor Gary Johnson and running mate Judge Jim Gray
(both
presumptive
nominees until 5 May) as the strongest ticket in the history of the Libertarian Party: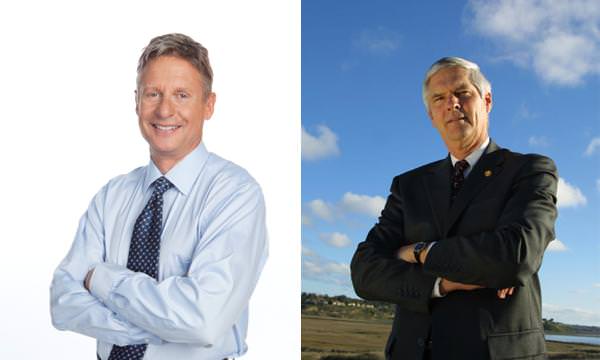 Gary Johnson and Jim Gray:
Most qualified ticket in
Libertarian Party history?
Johnson, who served two terms as the Republican governor of a traditionally Democratic state from 1995 to 2003, has more executive experience than President Obama and presumptive Republican nominee Mitt Romney combined. He maintains high favorability ratings in New Mexico, and a recent poll showed him pulling 15 percent of the vote there against Obama and Romney.
--snip--
On Monday, Johnson announced that he was endorsing the LP vice presidential candidacy of federal prosecutor Gray, the author of three books including Why Our Drug Laws Have Failed: A Judicial Indictment Of War On Drugs. As a Superior Court judge appointed by former Republican California Gov. George Deukmejian, Gray changed his views on the illegality of drugs when he came to the following realization, which he shared in an interview with Reason TV: "The tougher we get with regard to drug crime, literally the softer we get with regard to the prosecution of everything else."
The article gives the best one-paragraph summary of Johnson's beliefs and positions that I have read so far:
Johnson is promising to make marijuana legalization a "front burner" issue in 2012, and by teaming up with Gray, he sends a strong message that he is fully committed to doing just that. The former governor, an accomplished triathlete who climbed Mount Everest in 2004, is also strongly pro-choice, supports marriage equality for gays and lesbians and pledges to make ending the war in Afghanistan a top issue as well.
Definite must-reading.